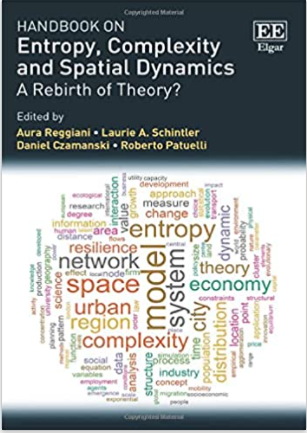 Handbook on Entropy, Complexity and Spatial Dynamics
A Rebirth of Theory?
Edited by
Aura Reggiani, University of Bologna, Italy
Laurie A. Schintler, George Mason University, US
Daniel Czamanski, Ruppin Academic Center, Israel 
Roberto Patuelli, University of Bologna, Italy
Edward Elgar Publishing, December 2021
About the book
This ground-breaking Handbook presents a state-of-the-art exploration of entropy, complexity and spatial dynamics from fundamental theoretical, empirical and methodological perspectives. It considers how foundational theories can contribute to new advances, including novel modeling and empirical insights at different sectoral, spatial and temporal scales.
With the help of leading experts worldwide, the Handbook examines how and to what extent entropic and non-entropic forces and processes in complex spatial socio-economic systems shape and are shaped by their structure and dynamics. Moreover, considering current concerns that big data and related data-driven methods may signal an end to theory, this Handbook is intended to investigate the potential and possibilities for complexity science to engage, revitalize, and advance theory in spatial economics. Overall, this Handbook reaches beyond qualitative generalizations, contributing to the identification of fundamental structural and dynamic properties of the complex space-economy.
Drawing upon diverse foundations and perspectives, the Handbook on Entropy, Complexity and Spatial Dynamics: A Rebirth of Theory? will be an essential resource for researchers and students of many fields and disciplines, including economics, urban planning and geography, regional science, information science, physics, and biology.
Publication date:17 December 2021 | ISBN:9781839100581
More information from the publisher
Learn more on ERSA members published books here.
Stay updated on ERSA upcoming activities, subscribe to ERSA E-newsletter