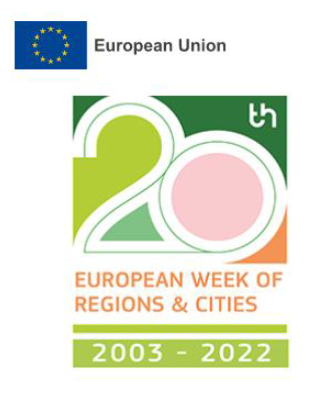 Hurry up!! Today is the last day to register to 20th European Week of Regions and Cities!
We will host 10 outstanding University Sessions including the speakers line-up from ERSA Community.
10 sessions of #EURegionsWeekUniversity (online)
Tuesday 11th October 2022
Wednesday 12th October 2022
Thursday 13th October 2022
Registration
The webinars are free to attend but places are limited therefore we recommend to sign up as soon as possible.
REGISTER NOW
Deadline: 30th September 2022
The European Week of Regions and Cities (#EURegionsWeek) is a major annual event dedicated to regional policy. The week serves as a platform to discuss and showcase the development of EU Cohesion Policy and to raise awareness of the importance of regions and cities in EU policymaking. More information on the week can be found at https://europa.eu/regions-and-cities/home_en.
The #EURegionsWeekCollege and the #EURegionsWeekUniversity are organised by the European Commission, Directorate-General for Regional and Urban Policy (DG REGIO) and the European Committee of the Regions (CoR) advised by the Regional Studies Association European Foundation (RSA Europe) and with the cooperation of the European Regional Science Association (ERSA) and the Association of European Schools of Planning (AESOP).