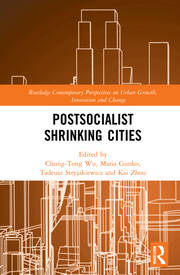 Postsocialist Shrinking Cities
Edited by
Chung-Tong Wu, University of Sydney, Australia
Maria Gunko, National Research University Higher School of Economics, Russia
Tadeusz Stryjakiewicz, Adam Mickiewicz University in Poznan, Poland
Kai Zhou, Hunan University, China
Routledge, 21 March 2022
About the book
This book provides a comparative analysis of shrinking cities in a broad range of postsocialist countries within the so-called Global East, a liminal space between North and South. While shrinking cities have received increased scholarly attention in the past decades, theoretical, and empirical research has remained predominantly centered on the Global North. This volume brings to the fore a range of new perspectives on urban shrinkage, identifying commonalities, differences, and policy experiences across a very diverse and vivid region with its various legacies and contemporary controversial developments. With chapters written by leading experts in the field, insider views assist in decolonizing urban theory. Specifically, the book includes chapters on shrinking cities in China, Russia, and postsocialist Europe, presenting comparative discussions within countries and crossnational cases on theoretical and policy implications.
The book will be of interest to students and scholars researching urban studies, urban geography, urban planning, urban politics and policy, urban sociology, and urban development.
Publication Date: 21 March 2022 | ISBN 9780367415235
Editors
Chung-Tong Wu is Honorary Professor, University of Sydney, and Emeritus Professor, University of New South Wales and Western Sydney University, and is the inaugural Chair of the Advisory Committee, Halloran Research Trust (Henry Halloran Trust), University of Sydney.
Maria Gunko is a Senior Research Fellow at the Institute of Geography Russian Academy of Sciences and Lecturer at the Faculty of Geography and Geoinformation Technologies, National Research University Higher School of Economics, Russia.
Tadeusz Stryjakiewicz is a Chair Professor of Geography and Head of the Department of Economic Geography at Adam Mickiewicz University in Poznan, Poland.
Kai Zhou is an Associate Professor of Urban Planning and Head of the Urban Planning Department in the School of Architecture and Planning, Hunan University, China.
More information from the publisher
Learn more on ERSA members published books here.
Stay updated on ERSA upcoming activities, subscribe to ERSA E-newsletter