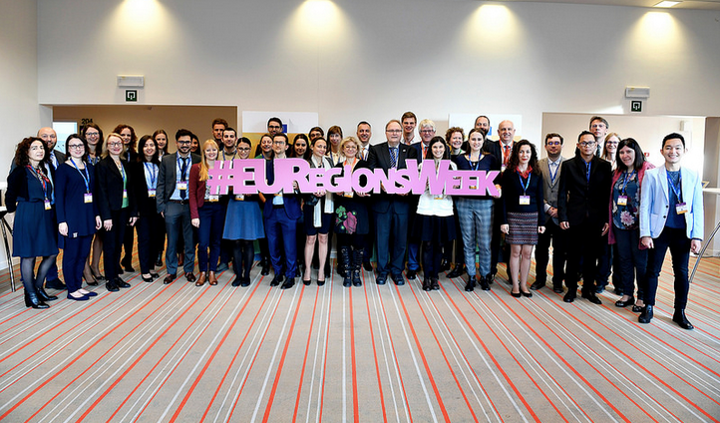 We would like to briefly report on our partcipation at this year's EURegionsWeek which were held from 8-11 October in Brussels.
ERSA co-ordinated two university workshops and was involved in the organisation and programme of the 6th Master Class of the EURegionsWeek.
Our two hot topic workshops were very well attended ( with over 80 participants at each session) and generated some stimulating discussion (see also discussions via our twitter account @ERSA_Org ) 
University workshops
October 10, 2018 from 09.30 to 13.00 : Migrants, asylum seekers, refugees and regional economic development
Moderator: Dimitris Ballas (co-organiser)
Speakers: Roger Casale, Nicholas Wise, Alessandra Faggian (co-organiser), Andrés Rodriguez-Pose
Organisers: European Commission – DG REGIO , Eropean Regional Science Association, Regional Studies Association
Date and time: October 11, 2018 from 14.30 to 18.00: Thirty years of EU Cohesion Policy: What works? Where? for Whom?
Moderator: Riccardo Crescenzi (co-organiser)
Speakers: Lewis Dijkstra, Enrique Garcilazo, Thomas Farole , Ugo Fratesi  (co-organiser), Dosso Mafini, Vassilis Monastiriotis (co-organiser), Laura Polverani
Thematic cluster: Future of cohesion policy, EU budget
Organisers: European Commission – DG REGIO , European Regional Science Association, AESOP
Please note: The final report on these sessions and the speakers' presentations will be shortly available  on ERSA website. Check back shortly for updates.
To download the EURegionsweek programme, Click  here
Master Class
30PhD students and early-career researchers had the chance to be selected for the 6th edition of the Master Class. They aim of the programme to improve their understanding of EU Cohesion Policy and its research potential. Their intense week programme included debates with Officials of the European Commission, paper presentations with feedback from proven scholars and EU experts, insights into the European Parliamentary Research Service. For sure, the success was once more at rendez-vous: 84 % of participants found the programme very important for their professional development .
more
more on highlights of the EURegionsweek
16th European Week of Regions and Cities
8-11 October 2018, Brussels