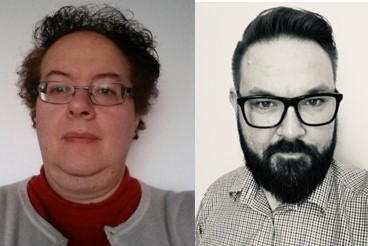 Welcome to the new Secretary and Treasurer of ERSA
We are happy to welcome Rosella Nicolini and Artur Ochojski to the ERSA Board. Their election took place on 28 August 2020 during the ERSA Council Meeting. Both have just started their 5-year terms at the beginning of this new year. Rosella Nicolini is appointed as the New ERSA Secretary (replacing Maciej Turala (2 terms from 2011 to 2020) and Artur Ochojski is the new Treasurer replacing Laura Resmini (2 terms from 2011 to 2020).
"We are very excited to welcome Rosella and Artur to the board. Their expertise and their strong commitment to our Community will bring valuable insight into the development of ERSA activities while helping the EOC and ERSAC Boards to further our mission of promoting regional science across Europe and enhance impact" says André Torre, President of ERSA.
Rosella Nicolini graduated from Bocconi University (Italy) and obtained her PhD in Economics at Université catholique de Louvain (Belgium). She is currently Associate Professor (Department of Applied Economics) at Universitat Autònoma de Barcelona (Spain) and coordinator of the PhD Program in Applied Economics in the same institution. Previously, she was also visiting researcher at Boston University (US), UNSW (Sydney, Australia) and GREThA (Bordeaux, France). She is editor of Paper in Regional Science and associated editor of Revue d'Economie Régionale et Urbaine  (RERU). She is also member of the editorial board of Regional Science Policy & Practice as well as of the Journal of Regional Research. Since 2018, she has been serving as elected councilor-at-large the Regional Science Association International (RSAI). Her research interests mostly focus on the analysis of the spatial distribution of people and activities and their impact on the rise of territorial unbalances.
Artur Ochojski has graduated from the University of Economics in Katowice, Poland with MSc and PhD in Economics. He has been teaching for over 20 years at the university and has provided various courses in the discipline of economics and finance. He has served the academic society being involved in mastering academic curricula and initiating collaboration around Europe with urban professionals in the field. His research focus is mainly set around cities with keywords such as: smart city, efficiency of local service provision, urban futures, governance and urban development. He has participated to research projects under the Framework Programme / Horizon schemes. He has authored nearly 100 publications. Over his academic career, he has always been linked to serving local and regional communities by active participation to strategic changes in cities and economic transformation of the regions. For the last 12 years, he has been a member of Silesian Board of Innovation supporting the Marshall Office in programming and implementation of Regional Innovation Strategy of the region. As an expert, he has authored over 20 technical reports delivered to self-governments and to business. He has been recently re-elected for his second term as the President of the Board of ERSA – Polish Section.
Serving to the ERSAC and ERSA community as the ERSA Treasurer he wants to dedicate himself wholeheartedly and assures that with his experience and competence he can actively contribute to ERSA future, the stability of its finance and he will help to facilitate its prosperous activity around Europe